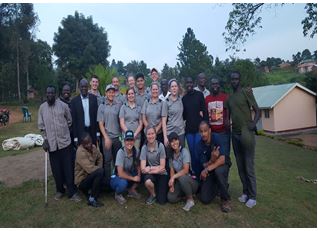 We had a visiting team from our church plant effort in Nairobi who came for the Easter weekend and a group of medical students from George Fox University in Oregon who came for medical camp. We have hosted this team for the last five years, but this time we took them to our medical center up north in Paidha for a two day medical camp and it was a unique and great experience for all of us. The photo on the left is of the medical students at Paidha.
Medical Center: Our medical center in Paidha is called the "Christopax Medical Center" and the visit of the medical students was a huge boost to the Center's ongoing work. The medical team was able to work with about 200 patients of different age groups out of a total of around 400 who registered to get treatment (photo on the right). The remaining 200 could not wait in line any longer to get treatment from the students; however 90 of these got treatment from the regular Medical Center. The team included a group of physical therapists helping many aging people who have grown weary with their physical challenges. They provided simple basic information and practical exercises that can help patients avoid permanent health disabilities in dealing with pain.
That was the busiest day in the history of the Christopax Medical Center, a clear picture that the visit of the George Fox University team created a lot of excitement in the community. We are in much prayer that we will be able to develop this Center into an upgraded hospital so we can provide more services to the people in the community.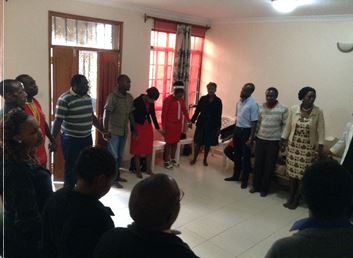 Nairobi Fellowship (photo on left): Our plans to start our ministry officially in Kenya are progressing, though we have postponed our launch date to officially open the ministry to September of this year. This will give us more time for preparation and actual fund raising for the work at large. In the meantime God continues to bring different people into the house church for fellowship and prayer. Already a worship team has been formed and is busy preparing for the launch. Our key prayer concern is for a central venue where we can start. As I shared with you in our last newsletter, life in Nairobi is very expensive, so we need to raise adequate funds to get this ministry officially started. Please pray much for us as we work on this.
Family: At home, our daughter Reba is finally back after completing her time of school in Redding California. She is taking it easy for this month to rest and find her exact direction for life and ministry. She says she is not in any hurry to pursue work or embrace ministry, but just needs time to rest and to assess what God is leading her into. Grace is doing well, and has her plate full with ministry related activities, including counseling and mentoring young girls and young families. She provides leadership to the Sunday school program at church and helps the teachers. Also her training of Sunday School teachers in different churches at times takes her to different parts of Uganda, and she loves every bit of it.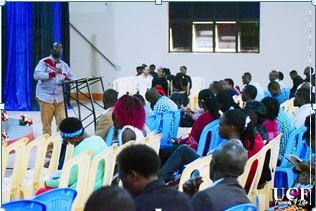 University Community Fellowship (UCF) (photo on right): The church is doing well, though it's our slow season in the year when most of the congregational members who are students have left town for their long break. This is the time that we can say only the permanent members of the church are around. We have not made any progress in completing the final finishing work for the church building due to lack of funds. This is a huge concern for us. Sometimes we become weary in waiting when specific key things we are trusting God for are not happening the way we expect. But we trust our God is in control and watching every step we are taking in serving Him here in Uganda.
From all of us here in Kampala, thank you for your partnership with us - your prayers, love, and support. May the Lord richly bless each one of you.
PRAISE: We are greatly encouraged and have joy in our hearts that we can continue to serve God's people here in spite of the overwhelming needs.
PRAYER: Pray that we will remain focused and give every concern to the Lord.
Pray especially for me; during the last three months I have found myself so occupied in dealing with lots of personal relational issues within the church that it has literally bogged me down emotionally with leaders and members. Please pray for renewal and refreshment, for wisdom, and for a clear sense of direction for my own life and for leading the church well.
Pray for the progress being made in starting the work in Nairobi, especially for the financial support we urgently need. Pray that the Lord will provide.
There is still a huge fluctuation in our monthly support: for many months we have not had adequate support. Our prayer is that our regular monthly budgeted support will be realized.
Pray for the Christopax Medical Center, that the work will progress, and that we will be able to find potential partners that can help lift the medical project to a higher level.
Pray for our daughter Reba, that the Lord will open doors for her and show her exactly what she needs to pursue.
Thank you all for loving us and for your continued partnership with us. Because of your love and partnership God's work is progressing here in Uganda, so we thank God for you very much.
In Christ,
Micah and Grace
Please keep us in your prayers.
Micah and Grace Rwothumio
Uganda address: PO BOX 5970, Kampala, Uganda
Uganda USA Contact and Donations:
Beth Naegele Phone: (312)718-0522 Email: elizabeth.naegele@moody.edu

phone: 011256 772521123 Email: micah.rwothumio@gmail.com
If you're interested in receiving the PIEI Uganda newsletter, or if you would like more specific information about this particular ministry, please contact:
Mike Naegele , Chairman for PIEI Uganda
socratesnaegele@sbcglobal.net